Standard 5K
The Stop, Drop & Run 5k originated in 2013 as a standard 5k walk/run.  The 2017 race is now our 5th annual race and we are more excited than ever to have runners & walkers return to Monaca.  Participants will traverse across the Monaca heights starting and finishing at the Monaca #4 Volunteer Fire Department.  Runner check-in and race day registration begins at 7:30 on Saturday, October 14th.  All participants will be presented with the 2017 Stop, Drop & Run shirt.  The overall first place male and female will be awarded $100 and a first place trophy.  The top three finishers in each division will be presented with a commemorative medal.  All children 12 and under will be presented a medal as well.
Obstacle Course
Obstacle course races have become one of the most popular events in the running world in the past 5 years.  There are races out there that have you run through mud, bounce down slides, and get splattered in paint.  We feel there should be less mud and more heroics.  The Stop, Drop & Run Firefighter Challenge is a firefighter themed obstacle race that allows you to live the life of a firefighter for a day.  You will battle through 22 different obstacles that challenge your strength, stamina, and teamwork.  The Stop, Drop & Run Firefighter Challenge is now in its second year and grew from 15 obstacles last  year to 22 to this year.
Runners will run the race in a wave format beginning at 9:30 a.m. and every 15 minutes thereafter.  All participants in the firefighter challenge will receive the 2017 race shirt and the Firefighter Challenge Award Medal.  This race is open to all skillsets and ages.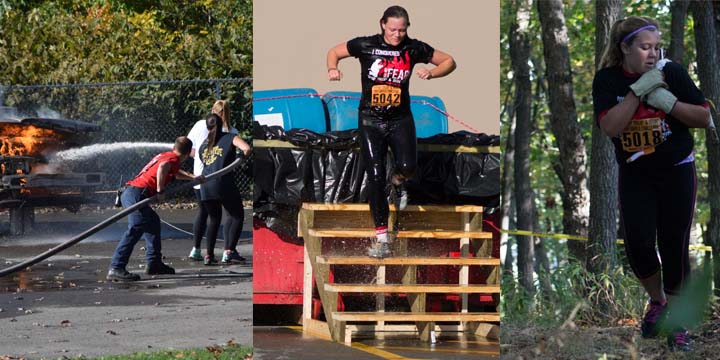 Why run it?
The Stop, Drop & Run is hosted by the Monaca #4 Volunteer Fire Department.  When you run in some of the larger obstacle races you are supporting a company that is hosting that race and then donates a very small percentage of the funds to some charity.  Our race is the complete opposite.  Every single aspect of the race is planned, constructed and organized by our volunteer firefighters.  We pour countless hours each year to get this race ready for our participants.  On the financial side of things, every single dollar that is raised goes directly to supporting your volunteer firefighters.  It is funds raised from events such as this that allow us to buy the necessary equipment and to attend the vital training to provide a top caliber volunteer fire department to our community.  When you register to Stop, Drop & Run, whether as a runner, walker, or obstacle course challenger, you are directly supporting your local firefighters.  With this in mind we want to say thank you to everyone who has presently signed up and to those considering signing up.